| | | |
| --- | --- | --- |
| Your browser does not support the audio element. | Word of the Departed | - Orchestra, chorus * |
| Your browser does not support the audio element. | In the Land where Secrets Bloom | - Voice, Croatian flute, ensemble, live signal processing onstage |
| Your browser does not support the audio element. | Corktown common | - Guitar/percussion/synth * |
| Your browser does not support the audio element. | Introit | - Soundscape |
*Recordings are a preview of new pieces
Ryan Janzen
Ryan Janzen's compositions have been performed internationally in New York, Las Vegas, San Francisco, Copenhagen and Shanghai. Featured on CBC, Danish radio, and at the World Expo, Ryan Janzen's compositions have been sought after for art music, film, and esoteric concerts. As experience-designer/music director of 24 live concerts and producer of 3 albums, he has collaborated extensively with musicians, orchestras, and interdisciplinary researchers.
Janzen's work embodies a fusion between art and science that comes naturally: Janzen's scientific research has led to advances in acoustics, aerospace engineering, and electric vehicle propulsion, and was awarded a federal grant from the Natural Sciences and Engineering Research Council. His music research is published in eight international music publications. After founding a technology consulting company in elementary school, Janzen worked on the award-winning film Commedia Fantasia (winner of the 2002 Houston International Film Festival Gold Medal Award in performing arts), and has since produced an array of art music, film music, orchestral and choral compositions, performance art, and high-tech performances that push the limits of art and science.
Janzen in 2006 was the world's first composer to create music for hydraulophone, an exotic instrument which is played by touching jets of water. Janzen developed a new expressive performance style and (along with inventor Steve Mann) a new musical notation which gives the performer access to a never-before-seen ability: polyphonic embouchure, brought into existence by hydraulophones.
His film scores include "Ritual", a hybrid film+concert performance in which audience and performers are left in pitch dark. Janzen's compositions have been commissioned recently for a grand-opening of the Canadian National Institute for the Blind in Alberta, and for the Marshall Fels Elliott short film "After Hours". His compositions have also been performed at the Music Gallery in Toronto, NIME in New York City, and the Vandkulturhuset in Denmark.
Janzen's multimedia work "Stray" was featured in a Florence, Italy presentation. This piece of music was written in the C programming language, for pipe organ and andantephone (a musical instrument designed with Steve Mann which transforms seismic waves from footsteps).
Fusion between music and science is also Janzen's specialty as an invited lecturer internationally at courses and conventions alike. He spoke at the Metropolitan Museum of Art, New York, for the American Musical Instrument Society, discussing his recent work. He is featured in 22 newspaper, magazine and TV news programs on art, science and technology.
Samples of his work can be heard/seen at:
ryanjanzen.ca
---
Stray (2010)
The andantephone is a multimedia instrument whereby a performer advances through a piece of music through physical motion. In this work, vibrations from footsteps, after being mapped to the notes and chords of the composition, were also encoded into serial FLUIDI data, to fluidly control the Casavant Freres pipe organ of St. Andrew's Lutheran Church, Toronto. The geophonic footstep vibrations were translated into crescendos and diminuendos moving between different ranks of pipes.

This new work for andantephone follows the path of a wandering traveler through an unknown landscape. In this artificial world, space is brutally linked with time, and time with space. The explorer passes tumultuously through emotional stages of development, as if his life story is being fast-forwarded unwittingly by his movement.

The composition process took place over two stages: The first was to create the artifical world (music programmed in C/C++). The second, an act of rhythmic interpretation, takes place on a higher artistic level and is visible to the audience. Taking the piece from early design into the final act of physical performance gave the feeling of rising above the clouds of technical and musical programming, into a wide open space where the creator/performer could roam free in a visceral, dramatic experience of the music.

| | |
| --- | --- |
| | |
| Time lapse multi-flash image of a public performance of "Stray" on andantephone. (image courtesy of Steve Mann) | Coverage in the Toronto Star. [Video] |
---
Hydraulophone
The Hydraulophone is the world's first instrument to make sound directly from water. Played by touching small jets of water, the hydraulophone produces a rich, unique, soulful sound. Janzen has featured it in concerts in New York, Copenhagen, Toronto, and Montreal.

With intricately controlled water turbulence, this unique instrument lets us hear the "voice of water" itself. This project has blossomed into new research in underwater turbulence, ranging from oceanography, to sonar, to musical acoustics, to experimental nonlinear physics.

In 2007, Janzen premiered the world's first orchestral composition for hydraulophone. Suite for Hydraulophone has had a lasting effect to this day on the way hydraulophones are constructed, to maximize playability and expressivity. Janzen's other pieces include Changing Spirit of an Oxbow Lake, Evershadow, and Sketch for two pencils.
Changing Spirit of an Oxbow Lake, performed on hydraulophone and violin (Colin Meier of Quartetto Gelato, Vancouver 2010 Olympics Opening Ceremony). This piece was composed by RJ, and originally written for Yi-Ting Chen, violin.
This piece was inspired by slow geological formation of rivers carved through land. As water flows through a river over many years, the river gradually develops a loop, or curve, and as the loop grows outward, it eventually can be cut off from the rest of the river, forming an "oxbow lake."
Produced by MediaTribe Interactive Inc.
Directed and Edited by: Keith Holding; Cameras: Bongo/Kane Holding; Sound: Dennis Hill.
Hydraulophone, played with a polyphonic-embouchure finger-technique.
Une Jeune Pucelle (Huron Carol) performed by Charlotte Mundy and Ryan Janzen. Janzen demonstrates this technique on a 45-jet hydraulophone (built by Mann/Aimone/Janzen); Mundy on vocals plus bass 12-jet balnaphone built into a SpaBerry hot tub.
Suite for Hydraulophone

New York performance, June 9, 2007


Movement I - Nexus
Movement II - Rain breaks open | what was forgotten
Movement III - When you return, the river will remain
As the first orchestral composition for hydraulophone, Suite for Hydraulophone's requirements played a role in the design of current and future hydraulophones, and served as the beginning of an interesting cross-pollination between composers, engineers and scientists.

Suite for Hydraulophone is programmatic, and evokes a cycle of inner longing for a hidden river beyond reach, while at the same time alluding to water cycles in natural ecosystems. The piece was written particularly for performance on the Ontario Science Centre hydraulophone after its completion. RJ had spent time on location there while collaborating with Steve Mann and Chris Aimone on the engineering project, and later while rehearsing on the finished hydraulophone, spending evenings in solitude. Nearby, rivers and forests beckoned just beyond the edge of the Don River Valley watershed.
Tempestate fluvium puer
This piece's Latin text refers to creating or giving birth to a storm, tempest, or turbulence in the air or ocean, while at the same time being swallowed up and drowning in the torrent. Fluid dynamics resonate as a hydraulophone makes sound from vibrations in water.

A tempestate nunc incipere
a turbulentis fluunt
aeternam et novandi circulus.
Nascendi
ubi traherétur sub
degluttiat nostra fluxum
fluvium puer

↠ Soprano, with Hydraulophone
Nova Vortex
This performance seeks to unite the ancient with the futuristic. Primal water flow is heard from hydraulophones, along with traditional instruments of the present, and, for two new pieces, electroacoustic ambient sound, melding sonics of the known and of the unknown.

Four new compositions of Janzen were featured: Tempestate fluvium puer, Hanadagá:yas, Changing Spirit of an Oxbow Lake, and In the land where secrets bloom.
Other hydraulophone images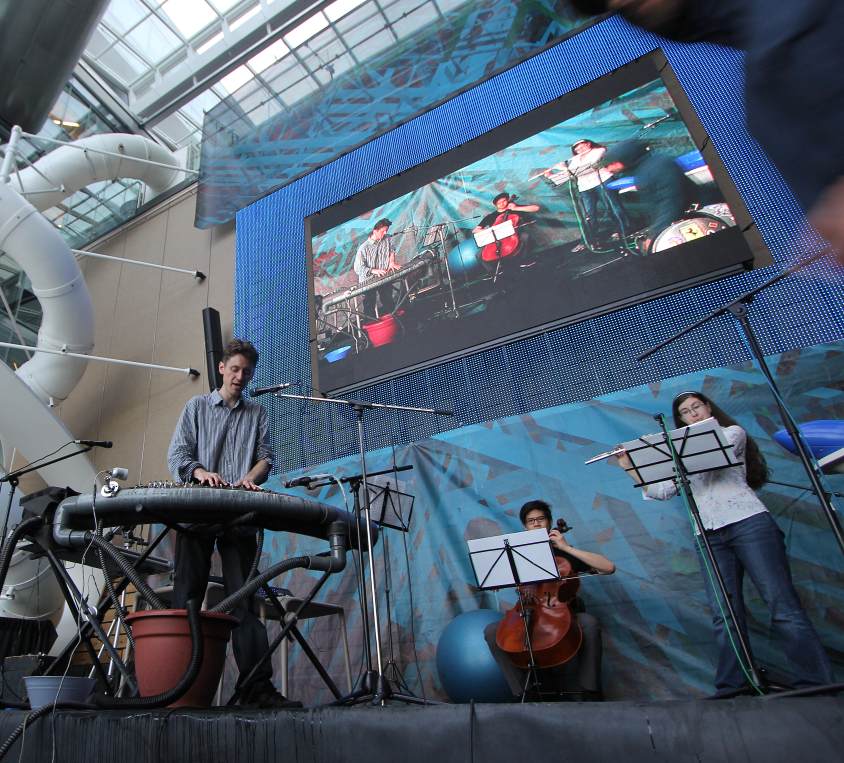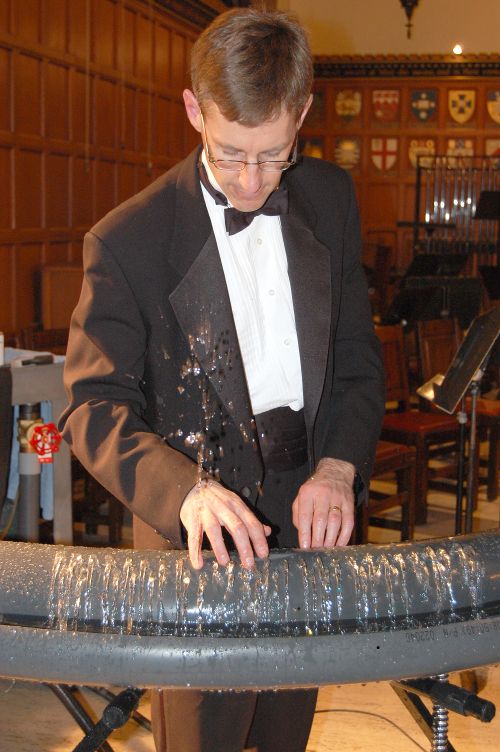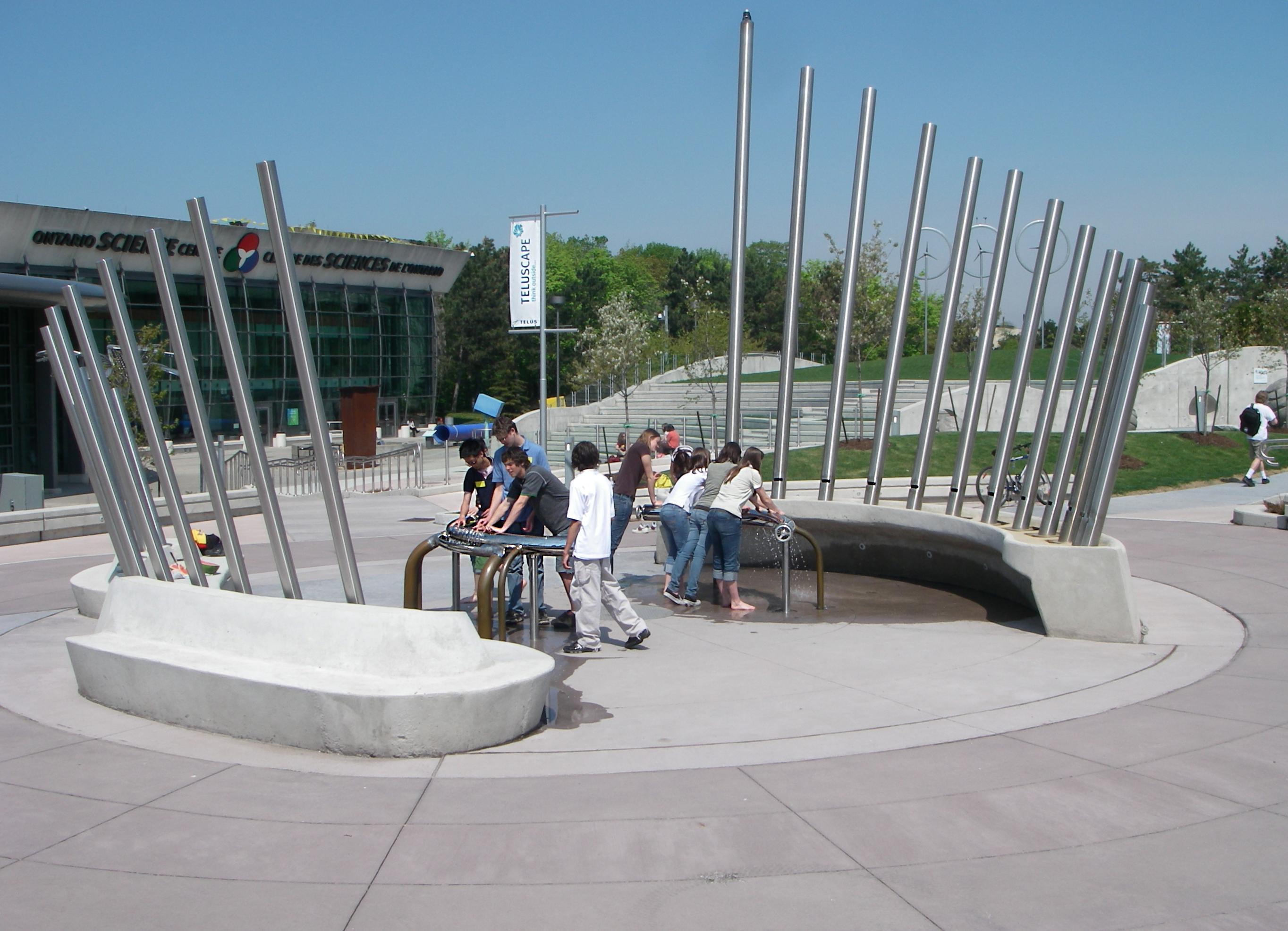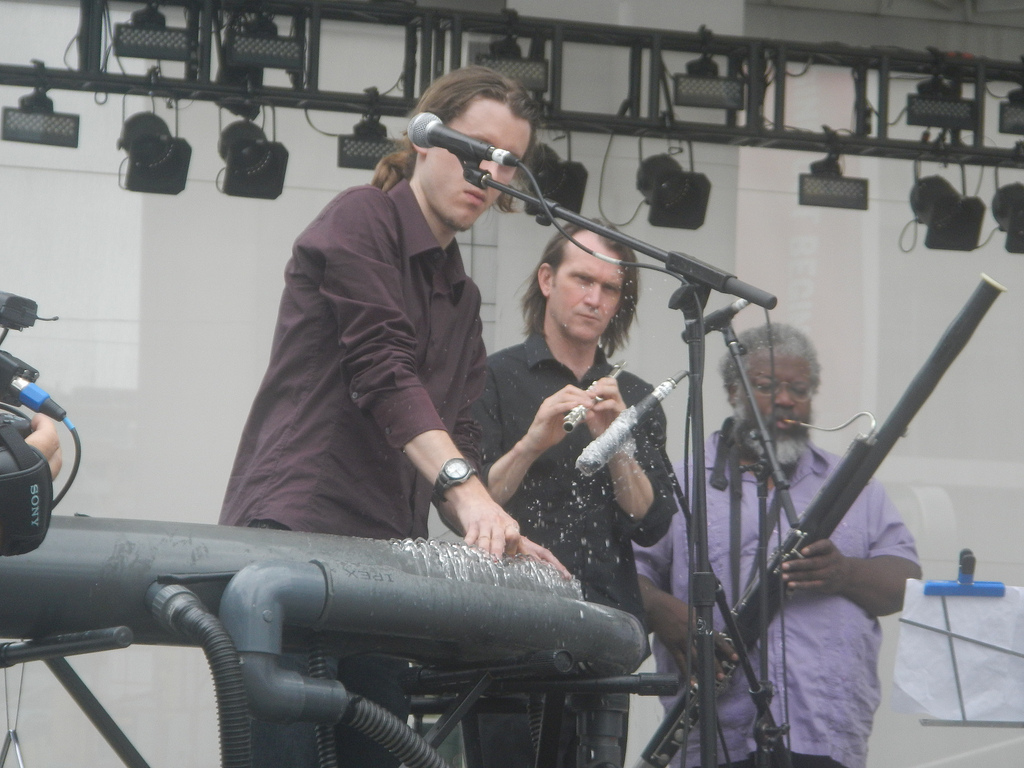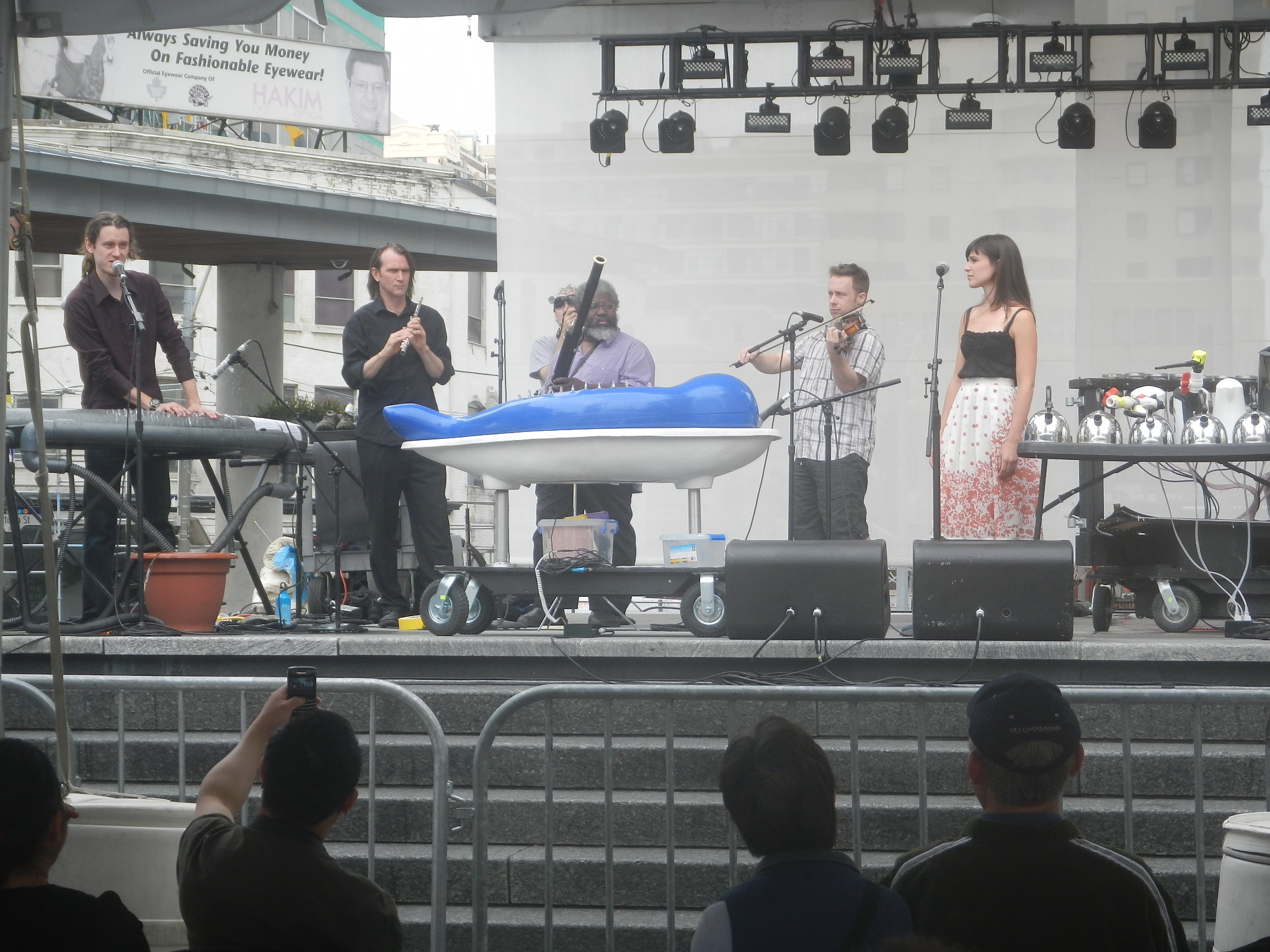 Scientific Research on Underwater Sound
Janzen and Mann have advanced research on the science behind pressurized water and acoustics. See research publications, to access the PDF files. See these papers:
"Hydraulophones: Acoustic musical instruments and expressive user interfaces."
"Swarm Modulation: An algorithm for real-time spectral transformation" (lets us hear extra underwater sound, beyond the range of human hearing)
"Hydraulophone Design Considerations: Absement, Displacement, and Velocity-Sensitive Music Keyboard in which Each Key is a Water Jet."
"Polyphonic embouchure on an intricately expressive musical keyboard formed by an array of water jets"
"User-Interfaces Based on the Water-Hammer Effect"
"Fluid Input Devices and Fluid Dynamics-based Human-Machine Interaction"
"'WaterTouch': An Aquatic Interactive Multimedia Sensory Table based on Total Internal Reflection in Water"
"The electric hydraulophone: A hyperacoustic instrument with acoustic feedback"
"Arrays of water jets as user interfaces: Detection and estimation of flow by listening to turbulence signatures using hydrophones"
"Fluid Samplers: Sampling music keyboards having fluidly continuous action and sound, without being electrophones"
"Water jets as pixels: water fountains as both sensors and displays"
Click here for the PDF files.
---
A specially-chosen singing toilet makes tones when water is carefully driven through a valve. This recording uses one instrument from each state of matter: Solid (violin), Liquid (toilet), Gas (clarinet), Plasma (plasmaphone), and "Informatics" (brain-machine-interface). Performance with instruments spanning all five Ancient Greek states of matter: Earth, Water, Air, Fire, and Quintessence. This is part of a larger body of work, collaborating with Steve Mann, Ryan Janzen, James Meier, Chris Aimone. Janzen is also seen playing clarinet.
---
The Ancient mixed with New Technology
In the land where secrets bloom
The moment before an awakening: An awakening can be political, emotional or spiritual. In this piece Janzen attempts to create "epochal" art, which bridges between vastly different epochs of human history and human consciousness.
"In the land where secrets bloom, and daffodils lie in wait
for our Dear Leader's final great mistake. I wander where you go."

↠ Voice, Croatian flute, clarinet, synthesizer, live signal processing onstage
Hanadagá:yas
Iroquois used the term "town destroyer" to describe General George Washington after he ordered his army to terminate the Haudenosaunee people. Washington wrote, "The immediate objects are the total destruction and devastation of their settlements, and the capture of as many prisoners of every age and sex as possible. It will be essential to ruin their crops now in the ground and prevent their planting more. ... to do it in the most effectual manner, that the country may not be merely overrun, but destroyed." Subsequently, all U.S. Presidents have traditionally been named "Hanadagá:yas" by the Haudenosaunee people. In this piece, Janzen creates the essence of what seems like an ancient folk story of a fox and a sparrow, as an echo of the present and future.

↠ piano, nylon guitar, voice, strings
Ritual

Introit
The Clan Calling
Sanctorum INCLUDING: "WHO ELSE GAINS TROUBLE AT HER DOORSTEP?"
Hills Roll By
Ite Missa Est





Originally written for:

STEPHANIE APPLIN ALTO
RYAN JANZEN BARITONE
LAURA BOLT FLUTE
rj CLARINET
TIMOTHY ADDIS NARRATOR / clan leader 1
MAIRIN SMIT INTERVENTIONIST VOICE / clan leader 2
rj et al. NIGHT-WALKING




What is Ritual?

The participants are seated in a music performance hall. Musicians are waiting, with sheet music, ready to play. The lights fade to black, enveloping all participants in darkness.

"Ritual" is a performance that consists of a film screened in the dark, where the contents of the film gradually spill out into the audience, with unseen musicians, actors, and confederates placed within the audience.

The musical composition of "Ritual" ushers the listener through a dark, disquieting journey into the unknown. The passionate, soulful lives of a sect of clanspeople are seen in a joyous light as well as in a sinister light. The music bears influences from African roots, jazz, and medieval plainchant.

It is a hybrid performance in the sense that it meanders between being a movie and being a live performance; the music coexists with drama onstage and events in the audience; an ensemble of live musicians play along with electronics; film rolls while stage lights swell and ebb through the darkness.

Much of the music and concept originated in a dream. After all the composing and planning, the final experience for the listener still has a dreamlike quality. It is also somewhat emotionally intense, based on themes of kidnapping, psychological warfare, and the mystery of an isolated civilization. The piece resolves through courage experienced through the eyes of a young girl who enters this mysterious world against her will.